started drafting this post weeks ago but kinda lazy to continue
The Pussy Slut and Vanila's Birthday
kinda skipped Tuesday's post, nothing much to write i guess... other than our old friend, Jayayalen came back to teach and screwing people who are 'present'.

yesterday i had a tutorial and lecture, 2 hours of boring classes... never had this happy feeling of walking to the boring classes before :)
so after yesterday's boring class, we came back to clean ourselves
image from thesilentroom
then headed to Klang for The Pussy Slut and Vanila's birthday celebration,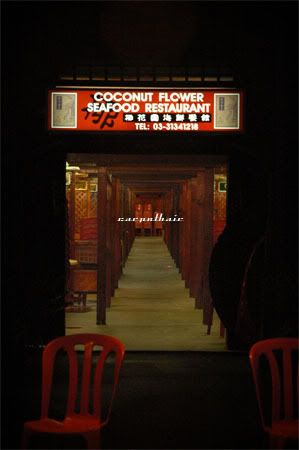 image from brian
in some coconut some flower some seafood some shop, kononnya famous one wor...
which i dont really have comments on food unless they sucks so if u wanna know more bout the food, take a look at
kampungboycitygirl's food review
image from kampungboycitygal
Puss's cake with his 'familiar' name...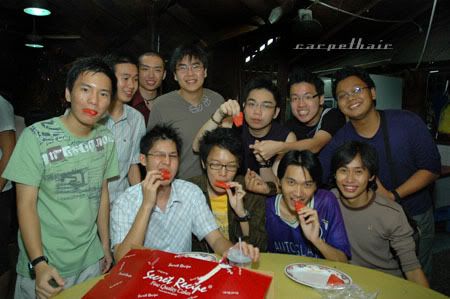 image from brian
the clan nT family photo
bottom: vanila with the president, imbap3h and the VPs, zongz & tcchang
top: sangKANCIL aka bigduck, thief, void, turtlez, 2noob2play, altkol and tenoq
image from brian
ya ya... the usual them...
like what Fuzzy said "
It was an awesome dinner and a total riot of a fun time. Mucho gracias, and Happy 21st Birthday guys!
Get laid soon!
"
just ignore the first 2 lines, only the last one matters before something worst than the photo happens ;)
photo albums from official cameramen
brian's 80 to 70 blog
thesilentroom.org
, pro cameranman which people are convinced that he is paid to take pictures, its a compliment Fuzz ;)
Sherie's Birthday
that day we went to bibiwok in puchong to celebrate Sherie's (+ chungsik + coleen) birthday :) a thai restaurant which has the
finest
blood sucking 3 ringgit keropok in town, sadly no one bothers to take a pic of it :(
Sherie's birthday in
her blog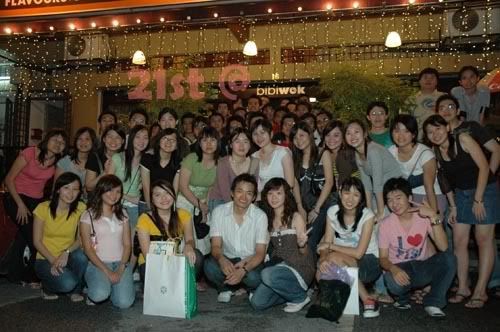 image from Sherie
Sherie's family photo :)
Buaya's Birthday
that night we went to murni for yumcha and guess who drop by for 60 seconds to take one picture then cabut
from the never ending loading blog