New Clowns:
BUBBLES
Guest Stars:
HARRY-POTTER
Date: July 7th, 2005 (Thursday)
SHERIE was
ajak~ing
me to zouk since like last trimester break and finally we are going :) the zouk trip proposal had been drafted a week ago and finally the 5 zouky commitees (SHERIE, VICKY, BUBBLES, BRYANI & DUDE) approved it.
3 Cars mission to zouk

Map of Zouk
Head count: 12
VICKY, BUBBLES, BRYANI, SHERIE, XYZ, DUDE, DOLLY, THE-BAD-ROOMIE, NOVEMBER, DECEMBER and HARRY-POTTER
as usual, girls are always late... say 10pm meet, 1030pm still havent show up. sitting six person in a waja is so
dem pek
considering that so many of us is so
big size
;) so VIC came and we went to campus to
pressed
money. traffic jam in bcb, everyone is taking money to go ladies night :)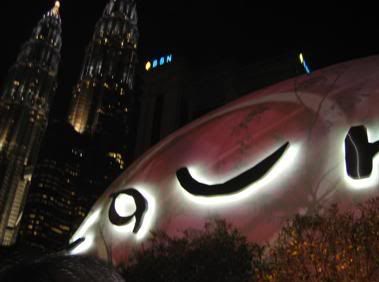 zouk kuala lumpur here we come~!
finally we reached zouk in ampang, as usual... we
worked
in front of the club (
work = checking out chix
) and it seems like the girls are more excited than the guyz, SHER and BUBBLES are checking out the
af af
with superb gigantic boobiez. instead of the girls scolding the guyz for checking out chix, VIC scolded BUBBLES for checking out ppl's boobiezzzzzzzzz, LOL
carpark was full and we had to use the valet parking which cost 15 bucks!!! must be the management side
main kotor
to earn the extra 5 bucks but we had no choice. thursday is ladies nite, first 500 girls who enter before 12am are free~! went there, met BRYANI's friends, 2
nasi kandar
(dudes) and 3
ayam madu
(chix) which i took 5 minutes to forget their names :P
zouky is
huge
!!! compare to the mambo in penang, mambo is definitely a noob :P
Ven's Theory
place =
kaw
huge,
clubber quantity =
kaw
high
chix quantity =
kaw
high
chix quality =
kaw
high too :D
PUSS, u wish u were here, LOL
XYZ and me are zouky noobz, all of them
hee~haa~ing
there d, both of us stood there
buat bodo
:( later on we got a call from THE-BAD-ROOMIE saying that their car broke down, NOVEMBER must finding her lipbalm til the car got too hot and overheated =))
dj gold fish is in the house, SHERIE yay yay~! and we went to the front to dance... we saw a guy wearing an mng dancing too, SAY IT~ SAY IT~ this is zouky noob's first dance move = move like a machine...
my name is asimo, im manufactured by honda japan... i am so lost... i wanna return to my homeland osaka
SHERIE intro-ed dj gold fish to the girls, and this is what happened the next day
XYZ's ym status
and this is my ym status the next day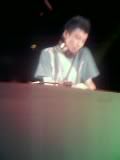 the mofo who
pao~ed
all the chix
when we went up to our table, DUDE arrived d with THE-BAD-ROOMIE, NOVEMBER, DECEMBER, DOLLY and HARRY-POTTER himself!!! omg, how they fit 6 ppl inside a
deer
??? someone must be enjoying himself behind :P after some chit chat, we went down again, this is zouky noob's second dance move = swimming... tried free style... then butterfly...
after the swim, we went up again and
yam seng
!!! DUDE poured the black label into pepsi and everyone drank. and we made THE-BAD-ROOMIE finish the rest, LOL. last week our one of our
four point o
also suck ass, now the next
four point o
got high in zouk... what can i say? IMBAAAAAAAAAAAAAAAAAAAA
after our drink, we went down AGAIN, for the last time... the zouky noob's last ultima dance move = the workout... push ups... sit ups... chin ups... in the end of the night, everyone shaked hand, took pic and shaked hand with dj gold fish X-(
on the way back cyber we went banana shake to grab a drink, it reminds me the first time i went there for ANDRENALINE's birthday (march this year) with collar t and long pants while the girls wore like going for a dinner =)) but we ended up in banana shake cause all places had closed. so we makan makan,
cakap cakap
then
balik balik.
came back and guess what i saw, DEGIL is still dota~ing at 5am! next morning all of us kenot wake up AGAIN, lol
pity friday classes :P
whats going on in cyberjaya???
BRYANI's Hair Carpet
this is a screenshot from his blog, i have no comments
http://jiokbrian.blogspot.com/
HHK's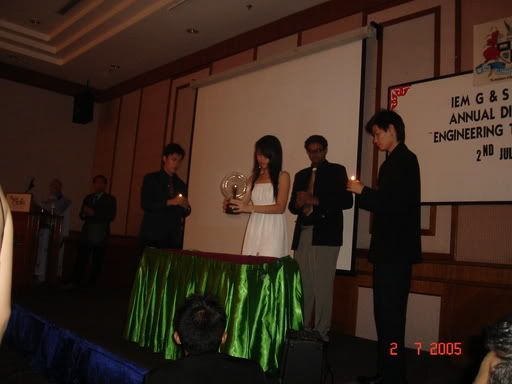 HHK doing something during iem gns with both of her new successors (QUIKSILVER and KOREANBOY)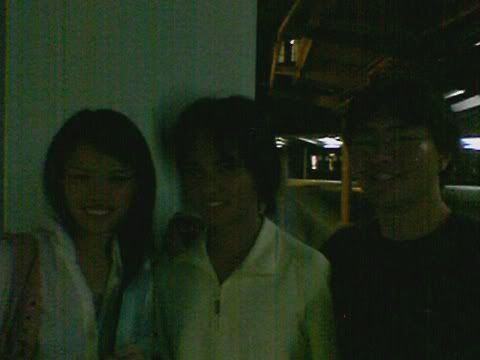 engsoc's buddy system on June 21st (HHK, LONG-HAIR and short hair) haha
http://www.xanga.com/home.aspx?user=hooikiang
JYHI's Still Growing Up
JYHI's new blog template
SAY IT~ SAY IT~ no comments
http://jyhyian.blogspot.com/
SOMEONE Gurl's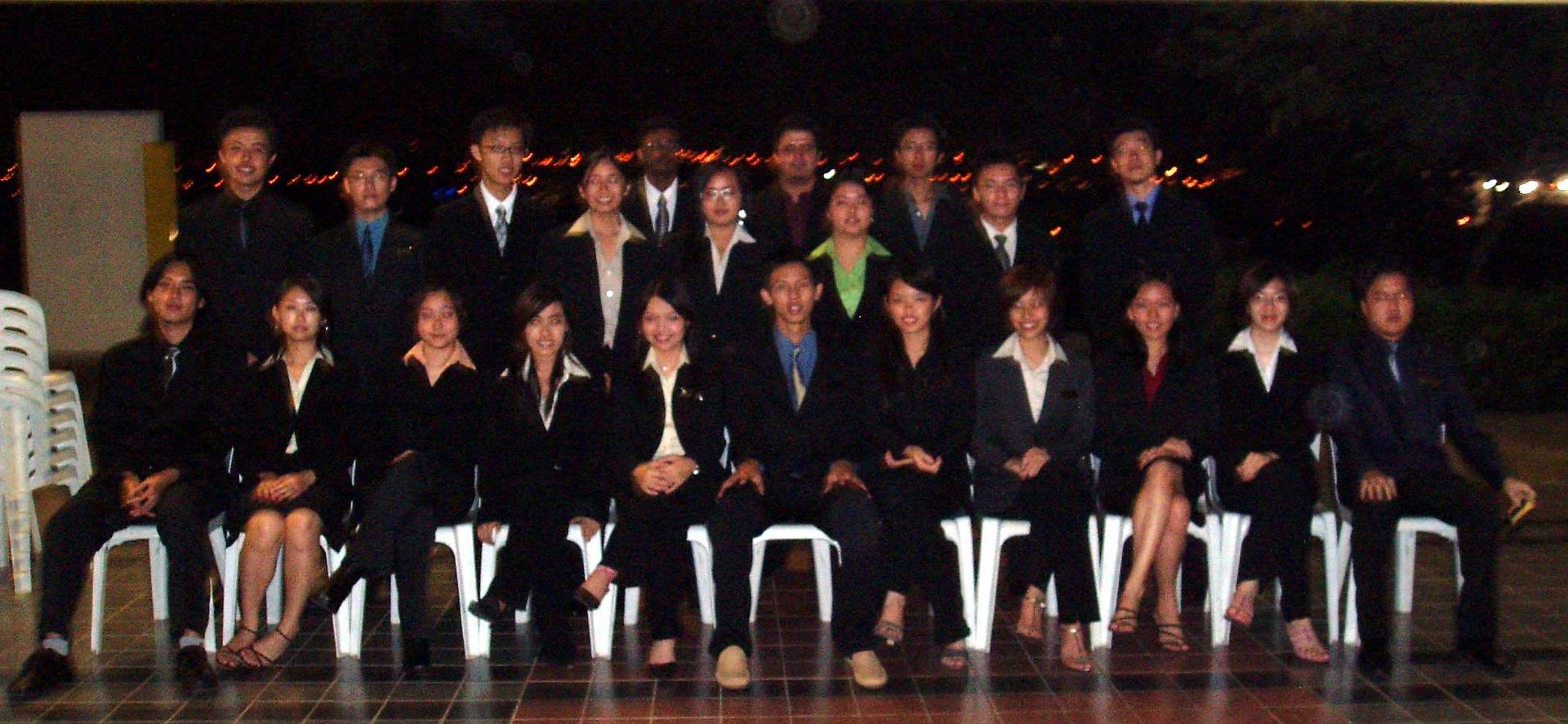 Engineering Society Council 2004/2005 Family pic
From left to right(seated): KahAik, SeowWei, Pris, CYee, Viv, Mr.P, HK, Eunice, MLing, MChu, PikJian.
From left to right(standing): Victor, HsiuhFu, Boon, CYin, Kalai, Meira, Hamze, Daniel, me, Brain.
M.I.A : JONATHAN n KENNY!!!

the converse shoes she lurve, me too~!
lets buy together~ my dad gonna kill me when he knows i rarely wears the china shoe he bought for me :P
http://www.xanga.com/home.aspx?user=one_cell_gurl
Here SHERIE Goes Again
shes the one who brought me to zouk so what she wrote is 'almost' the same as mine :P
http://imtoosexyformyblog.blogspot.com/
TEECEEBEE's Renaissance
i have no comments
http://teoh_chee_way.blogs.friendster.com/my_blog/
Zouky Noob roxx